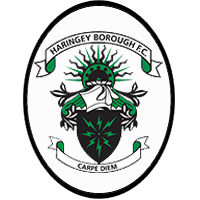 Haringey Borough Football Club is a football club based in Tottenham in the London Borough of Haringey, England. Formed in 1973 by a merger of Edmonton and Wood Green Town and was initially named Edmonton & Haringey. The new club took Edmonton's place in Division One of the Athenian League, and adopted their current name (Haringey Borough) after finishing bottom of the division in 1975–76. The league was reduced to a single division in 1977 and the club finished bottom of the league in 1981–82.
When the Athenian League was disbanded at the end of the 1983–84 season, Haringey joined Division Two North of the Isthmian League. With many of the players and the management team leaving shortly before the start of the 1988–89 season, the club dropped out of the league, before joining the Premier Division of the Spartan League for the 1989–90 season. In 1990–91 the club won the London Senior Cup. In 1995 they were renamed Tufnell Park, taking the name of one of the clubs that had merged to form Edmonton, but reverted to the Haringey Borough name the following year. When the Spartan League merged with the South Midlands League in 1997 to form the Spartan South Midlands League, the club were placed in Premier Division South for the 1997–98 season; a seventh-place finish saw them placed in the Premier Division for the following season.
Haringey Borough got relegated to Division One at the end of the 2006–07 season, which had seen them finish bottom of the Premier Division. However, they were Division One runners-up the following season, earning an immediate promotion back to the Premier Division; the season also saw them win the Division One Cup. In 2011–12 the club won the league's Challenge Trophy. At the end of the season they were transferred to the Essex Senior League, where their Coles Park tenants Greenhouse London also played. The 2014–15 season saw the club win the Essex Senior League, earning promotion to Division One North of the Isthmian League.
2016-2017 Play Off Semi Final – Lost 5-4 to Maldon and Tiptree
2017-2018 Play Off Final – Beat Canvey Island 3-1 (Promoted to Isthmian Premier League)
2018-2019 Play Off Semi Final – Lost 2-1 to Tonbridge Angels
2019-2020 Season Curtailed due to COVID
2020-2021 Season Curtailed due to COVID